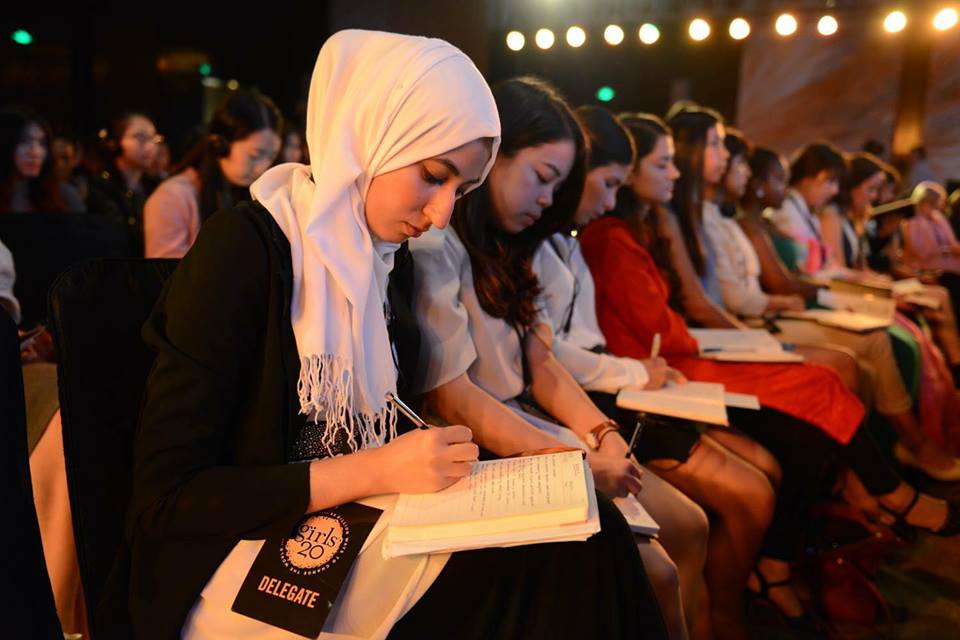 30 Nov

Cultivating a New Generation of Female Leaders
"G20 Leaders must remember that our commitment to encourage & increase female labor force participation is essential. At the G20 Summit, let's listen to the voices of the G(irls)20 delegates. These young women are not the voices of tomorrow, they are global leaders here and now."
-Justin Trudeau, Prime Minister of Canada.
The G(irls)20 Summit is a preliminary summit to the G20, meeting to discuss the G20 agenda with a focus on politically and economically empowering girls and women. The summit brings together an 18 to 25 year old delegate from each of the G20 countries along with representatives from the African Union, the European Union, the MENA region, Pakistan, and Afghanistan. In 2015, I was lucky to be chosen as the representative of South Korea. 
Being part of the G(irls)20 Summit as the South Korean delegate opened up another world for me that I had not seen before. I met brilliant girls from around the world who are deeply engaged in solving global issues, and initiating their own projects in their own local communities. We had workshops led by global experts such as Google, Norton Rose Fulbright and Burson-Marsteller on topics from digital marketing to communication strategy. These experiences changed my thinking about leadership. Before participating in the G(irls)20, I used to think that becoming a leader in my community and bringing change is something I would do at 40 or 50. However, through meeting other delegates such as Mojia Shen, who started her own social enterprise in Mexico to help Mexican woman to cook and sell their food, or Ayushi Banerji, who nurtures young leaders to meet social challenges in India through Blue Ribbon Movement, I realised I can be a changemaker myself.
Sitting at a table as representatives of our countries to discuss and write a communiqué to G21 leaders about increasing female labor force participation, I felt that all of the delegates shared a passion to solve gender inequality issues. In 2014, G20 leaders commited to "bring more than 100 million women into the labour force," and our goal is to help make this happen.
Read our 2016 Communiqué to G20 Leaders and the Report of this year's Girls20 Summit in China.
Since coming back from the G(irls)20 summit, I have been focused on initiating my own social enterprise SeoulAmo, a Korean teaching organization for women in Mexico. I actually spent 2015 teaching Korean to disenfranchised women in Mexico City. 
Currently, I work for the Office of Culture, Communication and Public Information at UNESCO APCEIU (Asia-Pacific Centre of Education for International Understanding) in Seoul, South Korea, which promotes Global Citizenship Education around the world, as part of the United Nations's Global Education First Initiative, launched in 2011. I teach Global Citizenship to Korean middle school students and lead Model UNESCO conferences on issues such as the restitution of cultural heritage, refugee struggles, and global food issues. I introduce our programme to teachers and global experts who visit UNESCO APCEIU from around the world. Participating in G(irls)20 motivated me to be a part of this movement to educate and inspire youth to become global citizens.
G(irls)20 is an invaluable experience for gaining a network of amazing global changemakers, both as mentors and delegates of different countries. Throughout the summit, I could feel myself becoming more self-confident, and one step forward from the person I was before being a G(irls)20 ambassador. If you are a woman like me— full of ambition to bring change to your country— then you should apply for the upcoming G(irls)20 2017 in Germany as a representative of your country or region. Girls! We change the world!
Hyo studied Communication, Journalism, and International Relations from Ewha Womans University and Paris School of Business, along with Spanish at the Universidad La Salle, and Chinese and Environmental Science at Peking University. She currently works as a Program Assistant at UNESCO APCEIU.