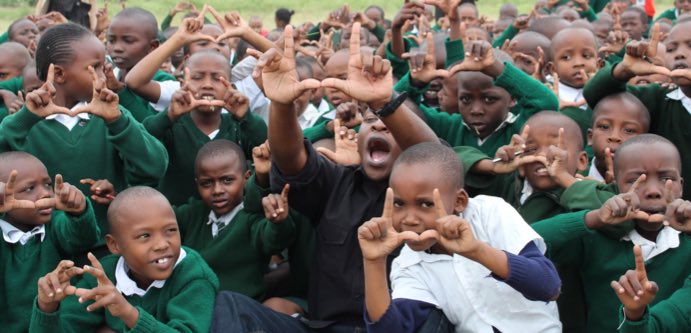 27 Oct

Disaster Resilience in Kenya
Empowering Young Kenyans to Understand Disasters, Assess Risks and Develop Resilience to Droughts, Floods, Fires, Famines and Attacks
As I write this, it's in the news –  five counties in the Coast region of my country, Kenya, are facing starvation. According to Kenya's National Drought Management Authority (NDMA), the situation threatens 1.3 Million lives, and people are in urgent need of relief supplies! Many are going hungry for days on end, and many will die as a result. Among the affected would be women and children.
Such are the stories that sadden me – stories of disasters in Kenya. They're the stories I hate to hear. Yet time and again they grace our national headlines, and spark national sadness and pity, sometimes accompanied with philanthropic gestures to donate relief and aid. It is such stories that compel me to keep designing innovative solutions to Kenya's disaster problems.
My name is Fladwel Rawinji, a 28-year old Kenyan with a heart for people. I hate human suffering, and I attempt to do the best I can to help alleviate it. I devote time, creativity and resources to design innovative solutions to the problem of local disasters in Kenya. 
3 years ago, I co-founded NOVELTYIK – an independent youth-led non-profit that helps reduce excessive losses and damages from disasters in Kenya by building resilience. I co-founded the organization just under a year after I graduated from Masinde Muliro University in western Kenya with a degree in Disaster Preparedness and Environmental Technology. It was never my intention to pursue a degree in disaster management – I was offered a place through a government university placement process. For the first few weeks of the course I was a reluctant, unconcerned and unenthusiastic student – until I had a season of personal reflection. 
Seated in an 'Introduction to Disasters' lecture one boring afternoon, a train of thoughts crossed my mind: "Is 'disaster management' a to be pursued as a profession, or is it a life-skill that should be learnt by everyone? For instance is 'First Aid training' to be offered to make one a 'professional first-aider' or is it a skill to be learnt by all, so that lives are saved during the first few seconds of injury?" These questions completely changed my perspective of the course, and redefined my passion. 
Now, when I see headlines about disasters in the news, I think "If  only disaster management was taught in schools, the victims would have known how to lessen the impact on them. Knowledge on how to reduce disaster impact and build the resilience of potential victims is available to the Kenyan government. Why is it that we keep experiencing the same disaster occurrences every so often? Fires? Floods? Droughts? Terrorist attacks?" 
As a student, I was growing aware of what Kenya needed to do to solve the problem of disasters, but was growing impatient with my government – for not being proactive enough, and employing traditional methods of disaster reduction. At graduation, back in 2011, I was decided. I wanted to use my knowledge in disaster risk management to help people at local level to manage their disaster risk. 3 months later, I came together with 5 fellow graduands to start NOVELTYIK.
For the last 3 years, our team has run programs aimed at educating local people on disaster resilience. We have had to fund most of our work out of our personal resources, and invite some of our enthusiastic friends to join us as volunteers. Through what we do, perspectives about disasters are being changed – more Kenyans are beginning to understand that disasters are not completely unavoidable after all… that it is possible to reduce their occurrences, and cope with and recover from them whenever they occur.
NOVELTYIK currently runs an innovative disaster resilience initiative at a primary school in Machakos County (Kenya), funded through a Kshs. 100,000 grant by Safaricom's MPESA Foundation. The initiative is called The SCORE Program. SCORE is an acronym that stands for 'Schools as Centers and Champions of Resilience'. The initiative aims to promote a culture of resilience to disasters among school-going children, their schools and surrounding communities. Through it, we are reaching at least 1,100 school children and teaching them various risk and safety measures through fun, interactive and experiential methods. The initiative has attracted the support of over 30 volunteers. In our teaching, we help the children to understand what disasters are, how they happen, and how they affect people. We provide tools for risk assessement, and help them develop a resilience strategy at individual, household and community levels.
I am excited because a generation of Kenyans is coming that would not need to attend pursue professional training to be able to offer simple first aid, or lead their communities to build resilience against regular floods or droughts. I have learnt that there is always a voice that calls us into helping others and making social impact. It is our choice to follow it. And I have learnt that God will always give us just what we need to make it happen – and with every obedience to His call, He opens new doors.
As I write this, I am seated at my desk, typing. I can't help but occasionally pause to imagine what God has in plan for next year. He has showered all these innovative ideas on me and my team, and we can't wait to put them to work. We intend to engage the school administration, to help them build the safety of their school against current and foreseeable risks. And we intend to reach more and more schools, until Kenyans become resilient to disasters – able to cope with local disasters with minimal external help.
Then, there will be fewer headlines about a drought threatening the lives of thousands of Kenyans.
Fladwel graduated with a BSc. Disaster Preparedness & Environmental Technology from Masinde Muliro University of Science and Technology. Alongside leading Noveltyik, he is a freelance graphic designer and a social entrepreneurship advisor to Nashipai Maasai Community.