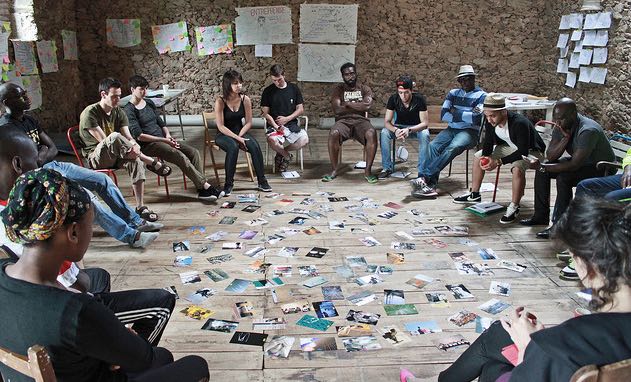 02 Nov

Empowering Youth in France

Posted at 13:33h

in

Advocacy

,

Business

,

Community

,

Education

,

Empathy

,

International Development

,

Leadership

,

Peace

,

Philanthropy

,

Social Enterprise

,

Social Justice

,

Volunteering

,

Young People

,

Youth

0 Comments
Empowering Future Young Leaders from Urban and Rural Areas around France and the World
My name is Amy Faulkner and I am currently interning at YES Akademia— a small for-social-profit global grassroots organisation— during my year abroad from the University of Cambridge, which I am spending in Paris. YES Akademia was established in 2012, when founding Director Sarah Gogel brought the NGO from Boston to Paris to plant its roots in this bustling, highly politicised and bureaucratic city. YES Akademia— founded originally under the name Global Potential in New York in 2007— works to empower 500 youth in France and partner countries every year. 
The signature programme 'IMPOWER' is currently recruiting future leaders from marginalised urban backgrounds to take part in a three-stage educational programme, dedicated to youth empowerment and leadership. The IMPOWER programme begins with an 8 month long period of workshops, during which the young people meet each week to discuss social themes as well as develop their leadership and entrepreneurial skills. In the second phase of the programme, they spend up to 6 weeks in one of our partner villages in Senegal, Haiti, Niacaragua, the Dominican Republic or India, where they undertake small micro-development projects, internships and workshops, as well as organising a youth forum in the village, which is always a much anticipated event.
The trips are specifically designed to encourage a truly culturally immersive experience for the youth, based on social justice and opening their eyes to another world that they might never have dreamed of experiencing. The third and final phase of the programme takes place once the school year begins again in September. During this phase, the youth undertake an independent and personal project, using the skills they have developed to make a difference to their community or communities abroad.
Throughout the programme, the young people are trained in a really diverse range of topics, encouraged to debate, form their own views, discuss, and meet others in this dynamic setting. They are empowered themselves, and they also work to empower others during their trips abroad and in their personal project. For the youth, this is an eye-opening intercultural experience; for the locals they live with, the youth are a source of cultural learning too and an enthusiastic breath of fresh air who help to develop various aspects of their community life in a small but impactful way.
My perspective on Paris has completely changed since joining the organisation and I have discovered a small family in the somewhat exclusive capital. I recently met Nadjma Kara, a really lovely and enthusiastic 21 year old who travelled with us to Senegal, and listening to her talk about plans for her project was truly inspiring. Najdma wants to inaugurate a nursery school which would provide both educational and recreational support for young children in Comoros, a small island off Africa's east coast. Both of Nadjma's parents were born in Comoros and having visited several times herself, the small island is important to Nadjma's story. Her life in Paris has made her realise that there is a real lack of this sort of opportunity for children in Comoros.
YES Akademia brings out the innovator, the problem solver and the future change makers of our world out from the corners of society. Where have these people hiding?
Sofiane Bouarif is another face to truly admire. He graduated from YES Akademia's very first programme and subsequently remained with the organisation as a member of staff, accompanying youth to Nicaragua and Haiti. These trips have truly inspired Sofiane, opened his world up to the idea of boundless opportunity and allowed him to meet new people, grow in confidence under a truly cosmopolitan and dynamic structure.
Both Nadjma and Sofiane grew up just outside of Paris, in La Courneuve and Noisiel, the Parisian 'banlieues' that are often times unjustly stigmatised in the media. The injustice only really became evident to me in my last couple of months working here. Meeting people like Sofiane, of Algerian heritage, and Nadjma whose parents are from the small island Comos, has imploded any misconception I might have construed from hearing about marginalised suburban areas around Paris on the news at home in the UK. Socially engaged, driven, inspiring, determined… I could continue for a long while yet on the glowing adjectives that I associate with these young people. Nadjma is now currently working towards a degree in Law at UPEC university in Creteil and Sofiane is studying Economics at ENS, one of the most prestigious universities in Paris.
I have never felt more uplifted for the future of our world than I do right now.
Thank you YES Akademia.
Amy Faulkner studies French and Spanish at the University of Cambridge, and is currently on her year abroad in Paris.