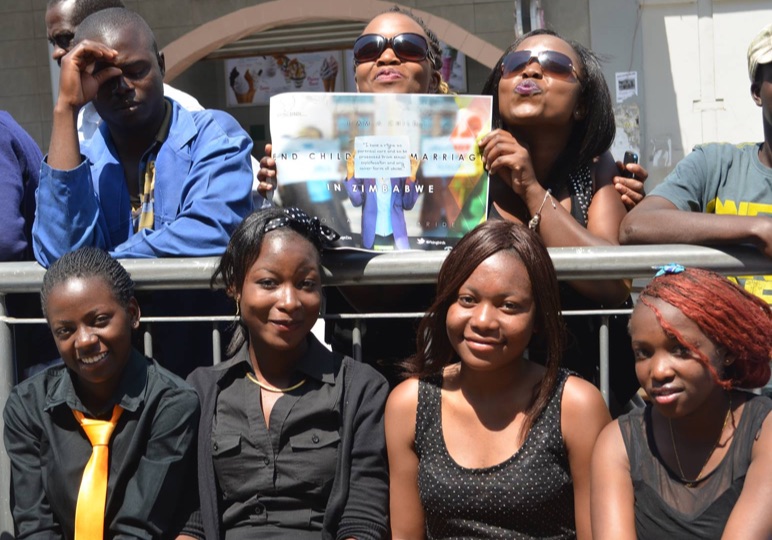 20 Dec

Ending Child Marriage in Zimbabwe

Posted at 17:35h

in

Child Marriage

,

Childbirth

,

Children

,

Community

,

Healthcare

,

HIV/AIDS

,

Leadership

,

Sustainable Development Goals

,

Women

,

Young People

,

Youth

1 Comment
Building Youth Movements in Zimbabwe to Create Change
5 years ago I met Tecla, a youth leader at the time, who was involved in a network of young people that I was a part of. She entrusted a small group of us with her story; a tale of courage of how she was sold off in marriage, became pregnant and contracted HIV before she turned 15, and how she overcame those challenges to inspire young people throughout the country. In the following months after she shared her story, we worked with a South Africa based organization called STEPS, to document her message of hope to share with young people throughout Southern Africa. Today her story is being used by youth groups in different countries to tackle stigma against people living with HIV, to encourage positive living and to advocate for laws that criminalize child marriage. She has continued her personal fight against HIV and lives with a strong optimism we all have learnt from.
It seems like a while back now, but it's stories like hers that come alive in me everyday, to inspire my work to support youth leadership, end child marriage and hold decision makers accountable. One can't deny that we live in an unjust and unequal world; and that those with the power to change it are misusing the power entrusted to them. It is such misappropriation of power that has resulted in over 1 million preventable deaths in adolescence, and in the disturbing figure of 39,000 girls that are married off every single day worldwide. Today the complications of pregnancy and childbirth are the leading cause of death of adolescent girls aged 15-19, the majority of whom are married or in union. With young people dubbed as our innovators today and the hope of our future, every young life lost is a closed window of opportunity.
With this in mind, I have worked over the years to build up and spread youth-led networks throughout Zimbabwe and within East and Southern Africa. In these spaces I have helped prepare and deliver trainings in advocacy, communication, leadership, networking and resource mobilization, all in a bid to equip young leaders with the skills they need to transform their communities. My biggest highlight was working in the National AIDS Council of Zimbabwe to decentralize youth networks to all 85 districts of the country. These networks are still functional today, and the collective figure of young leaders driving change at present is over 1,200. These young leaders have worked to increase young people's access to health services, to advocate for the change of harmful laws, and to engage fellow young people to build progressive communities.
Outside of my home country and region, I have contributed to transforming the global health space by advocating for meaningful youth engagement in decision-making spaces. This has been done through my previous role as a UNFPA Youth Family Planning Ambassador for Zimbabwe, as a current Board Member of Women Deliver, and as a former representative of young people within the structures of the Partnership for Maternal and Newborn Child Health (PMNCH). It is through serving in these roles that I helped lead the drive to create the first-ever global Adolescents and Youth Constituency within the PMNCH; a constituency, which is now championing youth engagement in global health. As this has gone on, I have continued to advise different organizations like Girls Not Brides, the Children's Investment Fund Foundation and the UN Secretary General's Every Woman Every Child team on how to better work with young people, and I'll continue to do this for years to come.
At the core of my work however, is a deep drive to address injustices faced by young women and girls. I was raised by a single mother, I have a lone sister and two nieces; so in all I do, I think of the world we live in now and how it should change to provide even odds for women and girls everywhere. Sadly, women are denied equal pay for equal work, they too are kept out of the corridors of power, and are excluded from most opportunities that men have access to. It is this knowledge that makes me increasingly aware of my privilege as a young man, and I have determined to use whatever power the system has availed to me; to challenge these current power dynamics. To do this, I set up Dot Youth Zimbabwe in 2012, a youth-led organization providing innovative solutions to development challenges. It was through this organization that I carried out the Rising Birds Project to end child marriage in Zimbabwe, and today it is led by Sibusiso Bhebhe, a fellow male advocate for gender equality. The organization is currently co-implementing a USAID DREAMS Project in Bulawayo Zimbabwe, with the aim of empowering young women and girls with life and livelihoods skills to better negotiate the challenges of young adulthood.
Having said this, I am aware that there's still more work to be done for effective youth action for development. In appreciation of this, I am working with a team of phenomenal women, to set up an under-30s platform to support innovative young leaders delivering progress for women and girls in Africa. The initiative is called Wellbeing for Women Africa, and has started to invest in influential young leaders seeking to amplify their impact within the region. I am also currently carrying out research on women's political participation and its impact on development in selected Southern African countries, in the hope that it will increase much-needed investments in this field.
I am doing this because of a personal resolve to keep giving as long as I have something worthwhile to give. You don't have to make it big, to give big; all you have to do is give your best and that will be big enough. It's also important to appreciate that we have a power of our own as young people, and our communities are looking to us to use it well. We can choose to spend that power on selfish pursuits as some of our leaders have done, or to prove our worth by investing it in the lives of those that need it. I have chosen to serve and to give, and I encourage you to do the same.
Yemurai Nyoni is a 27 year old global activist for adolescent and youth health. He is the Founder of Dot Youth Organization, a body providing innovative solutions to youth development challenges and mentorship for effective youth leadership. Mentioned in The Huffington Post in 2014 as one of ten young leaders that will change health care as we know it, Yemurai currently serves on the Board of Directors of Women Deliver and was an advisor to the Partnership for Maternal and Newborn Child Health. His diverse contributions to adolescent and youth health include as an African Youth Family Planning Ambassador for Zimbabwe under UNFPA and as a part of the Executive Committee of the African Youth and Adolescents Network on Population and Development. In Zimbabwe, Yemurai has effectively taken on child marriage and age of testing laws, as well as policies on comprehensive sexuality education through concerted advocacy work. He also led and helped build a countrywide network of over 1200 youth health advocates, taking decision makers to account in delivering youth friendly health services, before going on to found the Zimbabwe Independent Youth Advisory Panel.