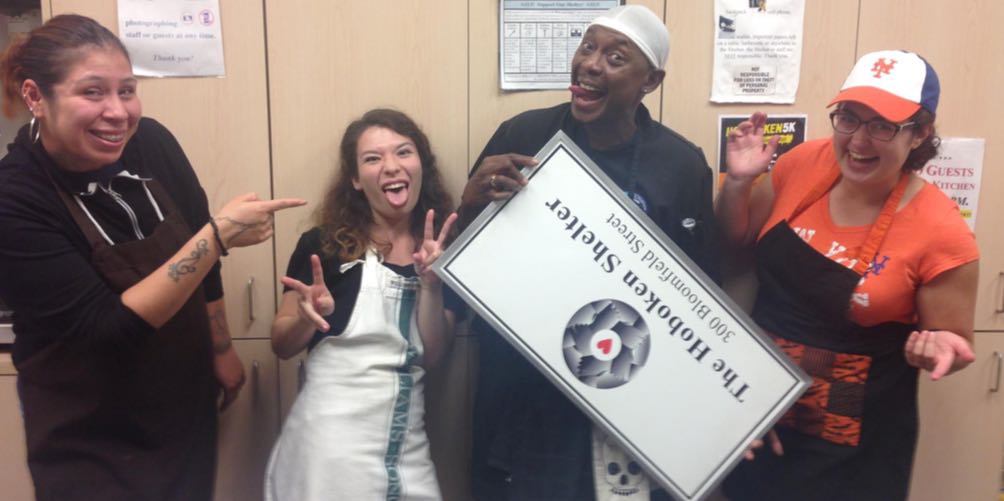 10 Nov

Feeding the Homeless in the US
No matter how disappointed we may be in what the American people have collectively chosen, we must never forget that individuals have the power to make a difference.
Since moving to New Jersey in September for my year of service with the Episcopal Service Corps (NEWARK ACTS) I have been volunteering at the Hoboken Shelter during the 11am – 3pm lunch. They shelter 50 people nightly, serve 500 meals daily, host 1,000 showers weekly, and provide support services such as case management, counselling, job and life skills training, creative arts workshops, emergency homelessness prevention grants, and permanent supportive housing solutions.
Volunteering at the Shelter has been a real joy, and I think that is for a couple of reasons. Firstly, the dedicated and wonderful members of staff make sure that everyone has fun while volunteering – be it chopping carrots, shucking corn, wiping counters, serving lunch, doing dishes, folding envelopes and keeping the kitchen running. Pictured holding the sign is Q, the chef on Mondays through to Wednesdays. His stories, his cheerful disposition, his jokes, and his CHICKEN (y'all should come just to try his chicken and gravy) always makes for an enjoyable time at the shelter. Vicky, the chef on Thursdays through to Sundays has everyone cooking up a feast. She makes sure that whatever spice she uses is enough for everyone to 'feel her love' and goodness does she have a lot of love to give. The days that I was put on the main reception, my heart was warmed with every phone call made asking about volunteering or donating, and with every donation that came through the door. It helps that Hoboken is quite an up-and-coming neighbourhood, but the generosity is overwhelming. Every day is different, but the love that fills this place always goes above and beyond. I look forward to serving this community every day.
In getting to know the staff and guests over the past month, the following passage comes to mind:
And Jesus said to him, "Foxes have holes, and birds of the air have nests, but the Son of Man has nowhere to lay his head." (Luke 9:58 ESV)
One reading of the idea that the Son of Man "has nowhere to lay his head" can tell us much about the transient nature of life, and the circumstances that we may find ourselves in so suddenly. For example, many guests at the shelter were getting by with work, receiving a stable income, had a place to live and food at their tables. Unfortunately, so many experienced the sudden reality of being made redundant. From one day to the next, they found themselves struggling to make enough money for another day. Our lives can change so drastically, and in such a short space of time. The Son of Man has nowhere to lay his head. The Son of Man cannot rely on what we have here in this life, because it can be taken away from us, however shockingly, in the blink of an eye… in the vote of a ballot. The 21st century still sees many trying to survive from one day to the next. But more than just surviving, Son of Man also has a fundamental need to belong, to a family, a community to go from merely surviving to thriving. The Hoboken shelter provides just that. Their space is set out with the intention of not just providing food as fuel for a line of people, but it also provide a space to be in community with others. This looks as simple as having a movie shown every day at 3pm with tea and coffee served for everyone. Through their services, they aim to help everyone regain their independence and be reintegrated into society. The Hoboken Shelter offers its guests and staff a place to belong, feel welcomed, supported and loved in a way that I understand to be the gospel in action – love in action. At the Hoboken Shelter, the Son of Man has somewhere to lay his head… and then get back up again.
How can I use what I have learnt to continue making a difference?
This question feels so urgent in this moment more than ever. As I write this, my eyes are heavy from watching the election results, followed by a sleepless night. If I have learnt anything, it is that the many Americans I have come to know and love, share an admirable quality. They are resilient. Their history is tainted with so much pain and death. Yet, so many are continuing to sacrifice and struggle to continue to fight for justice, equal opportunity, to eradicate poverty, to empower others, and to be themselves empowered. I am coming to believe that this is the kind of resilience that can bring Jesus' message alive, calling us anew to be his hands, his feet, his message, and to build the Kingdom little by little, day by day.

After graduating from the University of St Andrews with an MA in Theology and Biblical Studies, Gabriela Machado went on to persue a Postgraduate Diploma in Education from the University of Strathclyde. She moved to New Jersey in September for a year of service with the Episcopal Service Corps.