06 Feb

Fighting Inequality From Hong Kong

Posted at 16:43h

in

Accountability

,

Advocacy

,

Education

,

Healthcare

,

International Development

,

Policy

,

Poverty

,

Refugees

,

Sustainable Development Goals

,

Young People

,

Youth

0 Comments
Empowering Students toward SDG-Oriented Education and Action
The Sustainable Development Goals (a.k.a. SDGs) are a defining paradigm of our time. Adopted by all 193 UN Member States in September 2015, they represent an international consensus strategy to end poverty, protect the planet and ensure prosperity for all by 2030. Consisting of 17 goals and 169 targets, the SDGs are ambitious and broad: encompassing issues relating to all aspects of societal development from poverty, hunger, inequality and economic growth to action on climate change, oceans, energy, sustainable human settlements, responsible consumption and production, and peace.
Part of my work at the Centre for Global Health (based at The Chinese University of Hong Kong) involves running the CGH Sustainable Development Goals Series: a series of dynamic and interactive initiatives which highlight the international importance of the SDGs and localises them in the Hong Kong context with a view toward galvanising action.
Our SDG Series is important because the SDGs themselves are important: they provide an overarching framework which will define societal development over the next 15 years, and serve as a common rallying point to unite and mobilise diverse stakeholders to work together toward common goals.
Through the CGH SDG Series, we provide critical avenues for students to learn about how global issues relate on a local scale. Here in Hong Kong, people's perceptions of poverty and inequality typically bring to mind pictures of starving children or HIV/AIDS orphans located in Africa or Southeast Asia. However, these social and environmental issues resonate closer to home as Hong Kong has the highest level of income disparity amongst developed economies, with an inherently unstable consumerist culture clashing with the realities of local hunger and a 1 in 5 poverty rate.
In 2016, the CGH SDG Series ran 8 dynamic events and a photography competition, engaging over 500 students and staff from over 5 universities. It fostered critical thinking and action on the SDGs using creative means, bringing together students from across different disciplines to consider how they can live more sustainable and equitable lives. Some highlights included the Refugee Run simulation (which gave participants a glimpse into what refugees experience when they flee situations of conflict and insecurity, as you can see in the photo above), the CUHK Human Library (which enabled participants to have honest conversations with people who challenge gender and sexual stereotypes and promote gender equality), and the True Cost Documentary Screening (which highlighted the social and environmental cost of the fast fashion industry, and empowered stakeholders to support fair trade consumerism). The action-oriented component of each initiative equips participants with the knowledge and skills to take action at different levels regarding a specific SDG.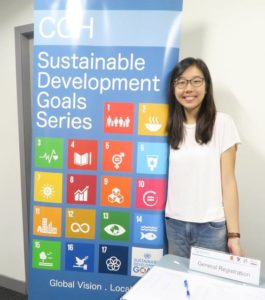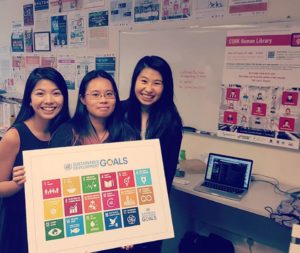 Something that I love about the CGH SDG Series is that it is borne out of collaborative partnerships. Our SDG Steering Committee— led by interested Faculty, staff and students— brainstorm and highlight the issues they think deserve more attention. We work with teams of student interns and volunteers to further conceptualise and operationalise these initiatives. We partner with other university units, local NGOs and social enterprises to share expertise on these topics using a truly multidisciplinary approach. Through working with such a talented group of individuals, I am constantly inspired by their passion, ideas and desire to see change, all of which serves to strengthen our work and approach. I also love how we get to shine a spotlight on the issues we personally care about and provide a meaningful platform for students to engage, from ethical consumerism to voluntourism, from food wastage to forced labour.
When we started, we were the primary stakeholder in Hong Kong who was raising awareness and promoting the SDGs. Now, more and more groups are starting to align their work within the SDG paradigm. As we step up our SDG awareness work beyond the university to also run initiatives in partnership with Plan International, World Vision, AIESEC and Fair Trade Hong Kong, I am excited for how this will inspire and raise up the next generation of change makers who will translate passion into action.
Sharon Lo is the Project Officer for the Centre for Global Health and the Collaborating Centre for Oxford University and CUHK for Disaster and Medical Humanitarian Response (CCOUC), both located at The Chinese University of Hong Kong. In her spare time, she facilitates youth engagement with sustainable urban development processes at the United Nations with the UN Major Group for Children and Youth (UN MGCY), and runs Youth Empact, an ethnic minority youth empowerment platform.