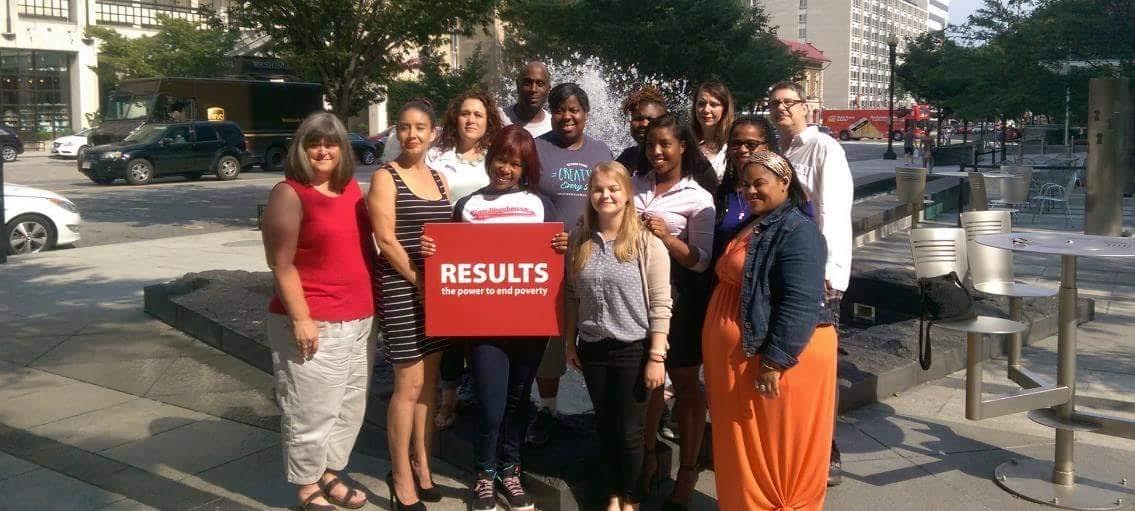 11 Oct

Influencing Policy to Tackle Poverty in the USA
Results uses real experiences of poverty to advocate directly with members of Congress to push for change. This powerful platform influences policy in USA, while also challenging harmful misconceptions about people who live in poverty.

I am Qiana Marie, a rose from the concrete. Born and raised in the inner city of New Orleans, Louisiana. That alone makes it my responsibility to stand in the fight against poverty. Poverty is a relentless creature that has plagued low income families for so long. We now see this monster extending its reach into the increasingly deteriorating middle class. I have witnessed and experienced the wrath of poverty as a child; from hunger to being oppressed by the lack of essential needs in the home and school.  The big question is, how do we fight a monster we cannot see?
I didn't realise how poor I was until I was about twelve. We were receiving government assistance and struggled through a period of homelessness, before house hopping for a while. School was my solace and education became my escape. I thought, "If my home life is taking my youth from me, my education will allow me to live forever!" My grades were good and I was awarded a seat in a newly formed academic summer programme called Summerbridge, which had a huge impact on my life. However, I often wondered about my classmates; how was it fair that they still lived in poverty because they could not read? And whose fault was it that they could not? It was at that moment I came face to face with the monster. I realised that it wasn't the crackheads in my neighbourhood, who would actually often look out for me and my family, who made irresponsible decisions that left them in poverty, but rather it was a society that dictated we must remain in poverty because that is where we came from, because that is who we are. This had to end!
I became an advocate because I grew up within a community without a voice. I was fortunate to have a grandfather and father who worked tirelessly to provide our community (the Lower Ninth Ward) with literature and direct access to policy makers, so that informed decisions could be made to ensure safety and prosperity in our community. That legacy of community service remained with me through my adolescent years, as I discovered for myself the hardship stifling the city I know and love. Although my father and grandfather initially inspired me to become an advocate, it was the children of New Orleans and Baton Rouge who really moved me to raise my voice and provide them with a platform to do the same. In order to achieve this, I knew I needed to connect with organisations who invested in this kind of work, which led me to Results.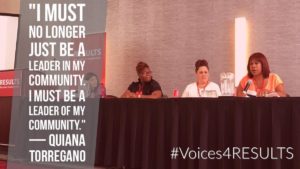 Results is a game changer. Results and Experts On Poverty is a monumental partnership of the 'haves and have-nots' coming to the table to promote growth and sustainability for every citizen. Results Advocacy Training through the Experts on Poverty group includes community building and service and awareness strategies. They welcome the underprivileged to share experiences of poverty, while offering training to create media pieces that discuss political decisions that affect their lives. As an Expert on Poverty, I use my personal story to promote change and encourage all citizens to take a stand against poverty. Results is the first to ask, "What's my story?" and "Who am I?", with no intention of exploitation or undisclosed motive. This organisation provides a platform that promises visibility to the invisible. So I shared my story, and in return I gained a renewed sense of self-worth, courage and purpose. I now not only have a great support system, but I have made lifelong friends whose strength I carry with me when times get tough.
With Results I have had the opportunity to travel, providing advocacy and storytelling training. As a result of this work, in 2015, I recruited the first Cohort of Writers on the Rise. This programme prepares middle to high school students for college and future careers. We have implemented a curriculum that integrates the Common Core State Standards Initiative with community building strategies. This group of writers read and respond to complex texts and articles that targets issues they decide affect them most. After in depth research, the writers will collect enough text evidence to create an essay that highlights an issue and proposes a possible solution to the problem that plagues their community. These essays are published in Teen Insight Magazine and hand delivered to Congress in Washington D.C. by myself, Q. Torregano, Program Founder and Director. It is my hope to prove to the world that we, as lifelong learners, are responsible for using our knowledge and voices as an antidote to injustice, so that righteousness is infinite and poverty is annihilated forever.
Qiana Torregano is a single mother of two children from New Orleans. She has been dedicated to providing high quality instruction in underserved urban communities in Louisiana for the past 15 years. She holds a Masters degree in Curriculum and Instruction, a Level 3 Teaching Certificate and 27 completed hours toward a Masters in Criminal Justice. She has actively volunteered with Results for 3 years and now serves as a proud member of the Experts on Poverty cohort.