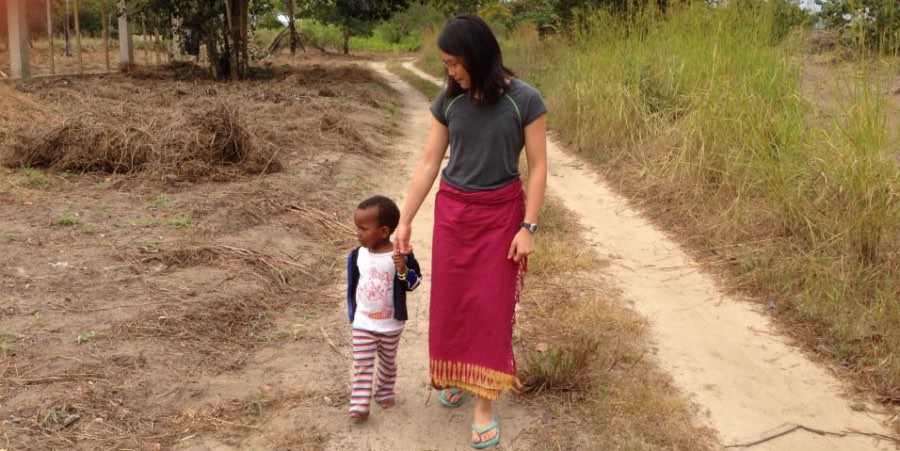 02 Aug

Medical Missions with YWAM in Tanzania
Serving at Uzima Mission Clinic Where Fifty to Sixty Babies are Delivered Monthly, & A Hundred+ People Visit Daily
During the summer of 2013, I had the privilege of going to Tanzania to partner with a Youth With A Mission base in a village just an hour south of Dar Es Salaam, the capital of Tanzania. I specifically travelled to Mwandege with the intention of doing medical missions work with one of the doctors that had been living and practicing there for many years. Wanting to see if medical missions was something that I was interested in exploring, I had gotten connected to Dr. Joel through a mutual friend who knew of my expressed interest to check out the medical mission field.  As soon as I learned of this opportunity to travel to a rural village where there was no wifi and partner with a local medical clinic, I jumped at this chance for adventure. I boarded the plane and remained there for 7 whole weeks with one other friend who was interested in being involved in the healthcare field.
During my 7 weeks there, I discovered that there was not only a missionary doctor there, but there was also a missionary midwife and several other volunteers on staff who were also missionaries. Since the clinic I was volunteering at was a part of the YWAM base, there were also many families with young children at this base.
I was grateful for the opportunity to be able to volunteer and and have a hands on experience at this particular clinic. Since most of the staff there were basically serving with very little to no wages, they were usually understaffed and needed assistance in some sort of capacity. My friend, Sarah and I were able to give them a hand with filling prescriptions in the pharmacy, assisting them on outreaches, administering immunizations, and supporting the staff as they amputated toes and delivered babies.
One of the more powerful moments of the trip for me was seeing a demon cast out of a woman on one of the outreaches we went on. At this outreach sight, our team had set up a station to diagnose and treat patients, a station to hand out the prescribed medication, and a prayer station. As this particular woman was receiving prayer at the prayer station, she fell to the ground and began to shake violently. Many people surrounded and began shouting "moto!!" which means Fire in Swahili and fiercely commanded the evil spirit to leave her body. Within a few minutes of her laying on the ground overcome by the power of the Holy Spirit, she got up, brushed herself off, and left a new person! What power and authority God has bestowed upon us to see His kingdom come on the Earth!
Another vivid yet sad memory from this trip was the very first delivery I got to witness at the clinic. This particular birth was a stillbirth as a result of the mother having to take strong medication for a sexually transmitted disease she had contracted. I had been forewarned that this baby was not going to be born alive but nothing prepared me for the moment I held that limp baby in my arms and felt his cold body and touched his wrinkly skin. While many preventative efforts were in place to try and prevent these kinds of diseases from becoming more prevalent, it was a sober reminder that I was in a place where healthcare was still underdeveloped and there were many uneducated people who were just struggling to survive here.
During my 7 weeks here, I felt that I really got to experience what it was like to live the life of a local and more specifically as a missionary.  I got to have a first-hand experience of what it was like to be able to serve in an underdeveloped nation but also be able to witness the transformative power of the Holy Spirit. I was able to be a part of the community that raised families and was able to attend a YWAM graduation. It was so special to be a part of the work that God was doing there and see that he was not only transforming lives, but he is transforming communities and nations as well. What a privilege it was to see God's kingdom advancing in this part of the world.
As I reflect on this trip that I took 3 years ago, I'm continuing to see how God used this trip to shape me and see more of His love for me. I specifically learned that God uses every situation and circumstance in our lives purposefully for our future. And not only for our future, but for our good. Despite the fact that we might not know the reason for that specific event, God has a purpose and a reason behind every season and circumstance that He puts in our lives. Nothing is meaningless. We know this because we can trust in the character of God— that He is good, kind, sovereign, in control of all things, and faithful to the end.
Constance Lee recently graduated from Wheaton College, Illinois, with a degree in Applied Health Sciences.