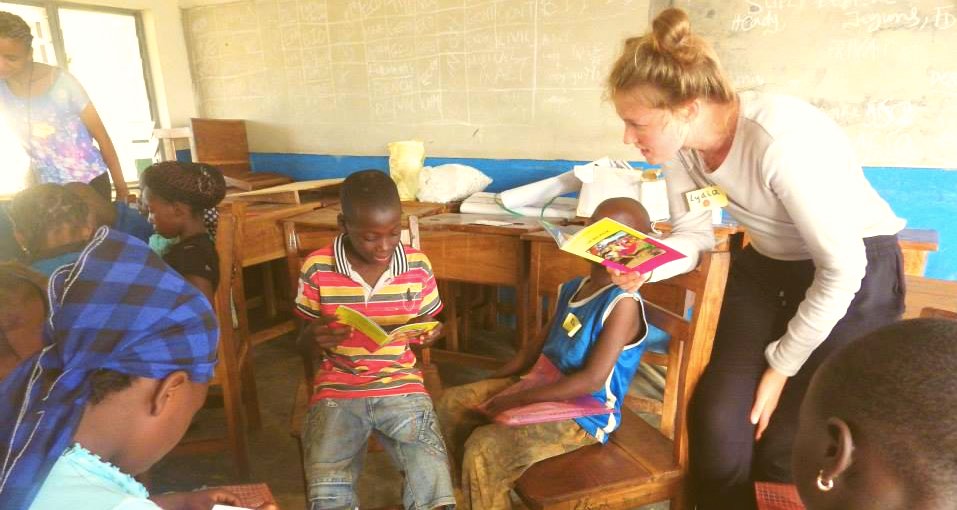 15 Jul

Teaching in Nigeria just after Boko Haram kidnapping
My Experiences as an International Citizen Service Volunteer in Nigeria
In 2014 I took part in International Citizen Service, a development programme that brings together young people from the UK and developing countries, to volunteer in some of the poorest communities in Africa, Asia and Latin America. Launched in 2011 by the UK government, the programme harnesses the potential, energy and commitment of young people, with the aim of fighting global poverty. On the programme, UK volunteers work collaboratively with local volunteers to find effective solutions to real-life problems. All of ICS's projects are aimed at being sustainable and long-term.
On my ICS placement I spent 12 weeks in Nigeria, on an education project. I was overjoyed when I found out my destination and project area. Education is an area I am particularly passionate about. I agree with Victor Hugo who famously said: "to learn to read is to light a fire; every syllable that is spelled out is a spark." Whilst I was excited about the prospect of going to Nigeria, my parents were not quite as excited… Two weeks before I was due to depart the 276 schoolgirls were kidnapped in Borno State, Nigeria. My friends and family thought I was mad, as I still wanted to go. I eventually became very close to backing out but I knew deep down it would be a decision I would regret. The hardest part of my ICS experience was making that decision. Looking back, I couldn't be more pleased that I went for it. The people I met and lessons I learnt will remain with me forever.
The team consisted of 12 UK and 12 Nigerian volunteers. Between us, we worked in 12 schools across 3 communities. The aim of our project was to improve numeracy and literacy levels among primary school children, who failed to reach the state benchmark for learning. Day 1 at the school was certainly not what Ruth (my Nigerian counterpart) and I had expected. The teachers gave us no guidance or instruction; they left their classes and told us to do whatever we liked. Ruth and I had no teaching experience and were overwhelmed by the noisy and excited children. We had a challenging time at the school, but it was extremely rewarding and I learnt so much.
By the end of our 3 months at the school, we ran daily reading clubs, set up a school library, received funding for bookshelves, sourced out sports equipment and presented to the parents and teachers at the graduation ceremony about the importance of a good education. The teachers eventually became more cooperative and got involved with our activities and projects, but this was not easy. Along with the rest of the VSO team we also ran a teachers training day, when we taught 50 teachers basic computer skills. Other projects included a spelling bee and a week-long summer camp for 150 children from 12 different schools.
A highlight for me was the host family I lived with— they taught me so much. I lived with an Anglican pastor, his wife and three daughters who were roughly my age. I spoke to my host dad about Christianity in the UK and how hardly any people go to church these days and he was astounded. I loved listening to him praying and worshipping with his friends in the house— it was like nothing I had ever heard before. My host sisters taught me a lot about the problems facing their community. They were frustrated about the lack of electricity that comes on for only an hour a day. They were upset that they did not have running water in their home but had to travel down the road with their buckets. I am still in touch with them all on Whatsapp! Despite differences in skin colour and language, there is a bond between human beings that transcends national and cultural borders.
Returning from ICS, all volunteers have to complete a social action project in their communities. I decided to volunteer at my local food bank in St Andrews (Storehouse). I found that many children in Nigeria arrived at school hungry, without any breakfast and this was affecting their attention span. This is not just a problem in Nigeria, but worldwide. Having done a bit of research, I was shocked by the statistics in my University town. In what I thought was a very wealthy town, 24.8% of children live in poverty. I believe that giving back to our communities is one of the most rewarding things we can do.  
My ICS experience taught me that I cannot change the world but I can impact lives and make a difference. I learnt to set myself realistic goals as I soon figured that I was not going to be able to teach a school of 150 to read and write in English at the end of 3 months. I learnt to be persistent and not to give up at the first hurdle. The ICS programme has equipped me with the skills and determination to make a difference in the world. It has planted a seed in me that I hope will continue to grow for the rest of my life…
Lydia Bowden is a recent graduate in social anthropology and theology from the University of St Andrews in Scotland. She currently works as an office and projects manager in London.