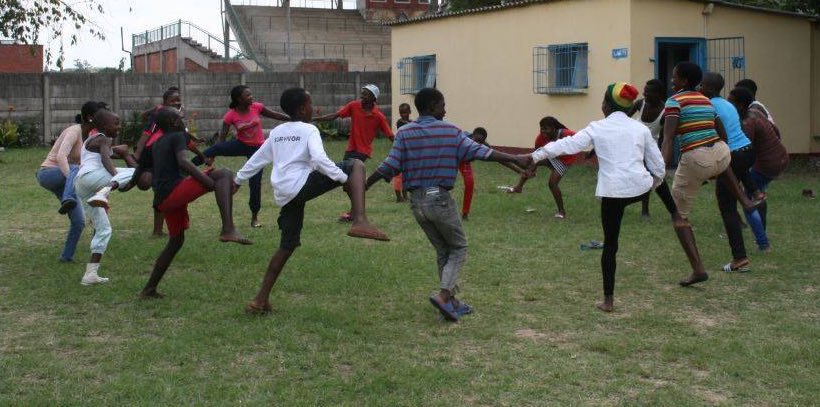 13 Oct

Transforming HIV Positive Lives in Zimbabwe
From Zvandiri Beneficiary to Mentor, Counsellor and Voice for HIV Positive Children, Adolescents and Young People across Zimbabwe.
I was born HIV positive in 1991, and in 2004 my health deteriorated to a point where I could not even walk for almost two years. In 2006, l commenced taking Antiretroviral Therapy (ART) and my health has since greatly improved. I was referred to an Africaid-Zvandiri support group, and this group made me the person l am today. Africaid was founded in Zimbabwe in 2004 in response to the need for holistic care and support services for HIV positive children and adolescents. At that time, there was increasing access to antiretroviral medication but little understanding or recognition of the broad range of stressors children and adolescents living with HIV experience, and their impact on both the health and psychosocial well-being of HIV positive young people. Africaid was approached by six HIV positive children who requested help in setting up a support group. This group was named "Zvandiri" by Amanda, a 14 year old girl, who wanted to say "I am a child with HIV, but accept me as I am." This meant, we do not have to lie or pretend to be someone whom we are not in life. Accept us with our challenges, diverse differences and above all, our HIV positive status.
Ever since 2004, Africaid has been providing community based interventions that are tailor-made to address prevention, treatment, care and support for children, adolescents and young people living with HIV. Through its Zvandiri Programme, Africaid is linking community and health facilities, strengthening HIV care, strengthening psychosocial and mental well-being, supporting HIV prevention including Sexual Reproductive Health Rights (SRHR), offering child and youth friendly health services, strengthening family dialogue, linking to child protection services, and offering vocational skills training amongst many other services. At the core of the Zvandiri programme are trained HIV positive adolescents and young people called Community Adolescent Treatment Supporters (CATS), who are powerful role models of living positively, as well as advocates for change. The CATS support their peers through home visits, support groups, HIV information sharing in schools, clinical based support as well as many other services. The Zvandiri programme has proven successful and sustainable, being duplicated all over Zimbabwe, and becoming a partner of the Ministry of Health and Child Care.
Africaid and the community have inspired my passion for working with adolescents and young women who are infected and affected by HIV, and encouraging the adoption of interventions that eliminate stigma and discrimination. Through the knowledge and confidence l gained at the Zvandiri support group, l was invited to sit on different bodies, bringing the voices of communities to the decision-making table. After completion of my studies in Counselling, l moved from being a beneficiary to a co-creator of programmes and intervention within Africaid. I am currently a Zvandiri Mentor for Mutare District where l am implementing the DREAMS (Determined, Resilient, AIDS-free, Mentored and Safe) project that is currently funded by USAID.  The main focus is on reducing HIV infection amongst Adolescent Girls and Young Women.
Through Africaid, l have learnt that a purpose in life can be driven by the passion on the inside. One of Africaid's core values is fulfilling children, adolescents and young people's dreams and goals, thereby encouraging them to live their lives to full potential. I am now able to extend the improved services l received to other children, adolescents and young people, and that alone is called success. Africaid has managed to bring the voices of children, adolescents and young people to the table, giving them ownership of the programmes. Making a difference in society is not about how much funding we have but how many lives of children, adolescents and young people who are living with HIV we have transformed and that alone give us a purpose in our lives. Like our Motto says "With Support, We stand strong."
Maximina is a Professional Counselor at Africaid and a Zimbabwean national advocate working on child protection issues such as neglect, rights violations, and stigma and discrimination of children and young people living with HIV.