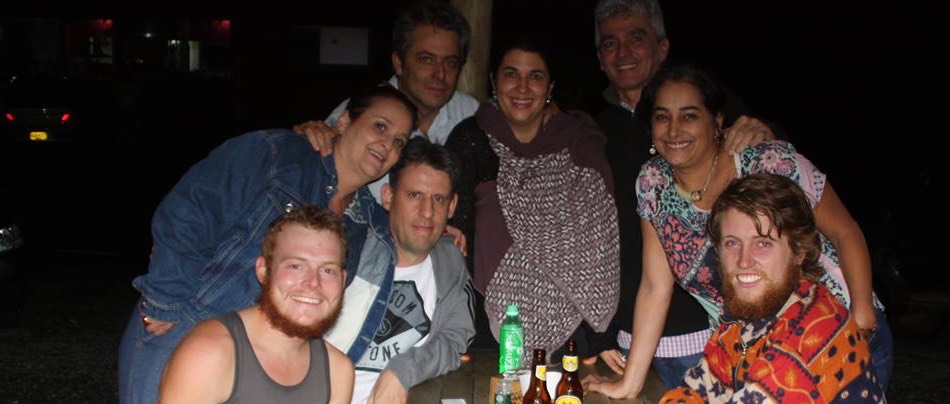 19 Sep

Welcoming Refugees to the UK
In honour of today's UN Summit for Refugees and Migrants, Steve Owen writes about how he was welcomed by locals when he cycled from Alaska to Chile, and how differently refugees are treated in the UK. Borderlands Bristol works with refugees, asylum seekers and trafficking victims to help them transition from exclusion to belonging.
My next door neighbours are from Somalia. I think. So far I've only seen a couple of them, two women, who wear bright, patterned dresses and headscarves. They speak a language I don't understand, and we have different coloured skin.
I want to write about philanthropy as loving your neighbour.
In May I came back to the UK after cycling from Alaska to Chile, I would write about that, and the experience I had raising money for great work in Burundi, but seeing as I was fairly unsuccessful in my fundraising, I'm not going to.
I will, however, share one thing. Cycle-touring is slow. In general, you spend a lot of time in places you would never have chosen to visit, but which you have to visit, because they're on the way, and you're too slow not to. As a result, you spend a lot of people who are just very very normal. We spent many hours around the tables of generous farmers and labourers whose doors we had knocked upon in search of a small patch of level ground to sleep on. These ordinary people showed us amazing generosity (a blog post in itself). They had little or no experience of tourists, because they didn't live in touristy places. What I'm trying to say, is that they're not the people that you would ordinarily meet while travelling. These were not the hustlers of busy markets, nor the helpful, well-paid reps or guides well used to westerners and our oddities. These were just other humans. Meeting them was a real highlight.
Our world-views and life-experiences were vastly different, yet they loved us, and we loved them in simple acts of hospitality, conversation and acceptance.
Since returning to my own country, I have been volunteering at a small charity in Bristol called Borderlands, a drop-in centre for refugees and asylum seekers living in the community.
For most of us, our main information regarding refugees and asylum seekers inevitable comes through the media's coverage of the 'migrant crisis'. Now, without boring you with some shouty almost-accurate-but-not-quite account of why this kind of labelling by the mass-media is unhelpful, let me tell you a few of the many things I have learnt from my short time with this wonderful charity.
1. Asylum seekers are people who have declared themselves to the Home Office/Border Control after arriving, stating their intention to claim asylum in the UK (hence the name).
2. Refugees are people who have been granted asylum by the Home Office.
3. Asylum seekers are not allowed to work.
4. Asylum seekers are not entitled to public funds (aka benefits).
5. The government is obligated to support and house those exercising their right to claim asylum in a foreign nation until their claim has been processed. This support is generally £36/week, which is half the amount of the Job Seeker's Allowance, and is generally understood to be the bare minimum on which a person can survive in the UK.
6. On being granted refugee status, you lose your housing and support and must fend for yourself, now entitled to both work and public funds.
7. Asylum claims often take years rather than months (I have a friend who has been in the UK since the late '90s and is still waiting).
I could write pages about the injustice of this system, (don't get me started on detention). However, as the Spanish say, es lo que hay, it is what it is, and Borderlands seeks to alleviate some of the loneliness, boredom, frustration and poverty which is a guaranteed element of this process. We provide a place to hang out with friends, get something to eat, improve English, get advice, and generally be treated like a human being.
The fact that those who have been through so much are treated so badly by those they turn to for help, is a truly shameful thing.
I think what I'm discovering, is that you really don't need to go anywhere to be involved in doing good for other people. In fact, I think we need to move away from this doing-good model, and towards a being-good model. Why do we tend to live such isolated lives, occasionally emerging to engage in some charitable endeavour? I want to commit. I want to live my life in the community around me, not only supporting the vulnerable and lonely and poor I share my town with, but being supported by them in turn, and benefiting from the richness of culture and experience that I tend to walk past and ignore each day.
My next door neighbours are from Somalia, I think. But I want to know. I want to know them and make them feel welcome and at home in the country that they have moved to. I also want to be made to feel welcome by them, in the street which I have moved to, where actually they've lived much longer than me. They could well be refugees, survivors of one of Somalia's many conflicts. Or they could have come here for any number of other reasons. But unless I get to know them as people, how will I find out?
Since graduating with a degree in Theology from the University of St Andrews, Steve cycled from Alaska to Chile, and is currently an intern at Borderlands Bristol.